Kenneth Duncan Isely
Kenneth Duncan Isely was born on April 14, 1918 in Wichita Kansas toBliss and Flora Duncan Isely. Kenneth excelled in the aviation industry and as a figure skater and a leader in the development of figure skating. He died in Wichita on August 14, 2011. Here is the eulogy read by Richard Harris at his graveside on the morning of 8/20/2011, under unexpectedly pleasant weather, in Maple Grove Cemetery, just a half mile south of his lifetime home neighborhood, Fairmount. Here are tributes to Kenny.
---
Here are photographs of Kenny (click on each image for a full size rendition at higher resolution).
.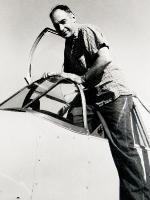 Kenny, as he appreared in his prime (circa 1947).
A Kenny Isely photo from his personal collection (photographed by Richard Harris, with Kenny's permission). Richard's notes follow.
I'm very certain he's boarding the pioneering 1947 Rawdon T-1 trainer/cropduster which he built for the plane's famed designers, Herb & Gene Rawdon. (Very closely matches the T-1 postcard I've examined. I also have a photo of the landing gear, with Kenny's notation that it was his handiwork.) Most likely taken in 1947 (since plane has apparent prototype markings), or at least within a dozen years thereafter, at most -- which makes Kenny's age at least 29 in the photo, but likely not more than mid-30s.
---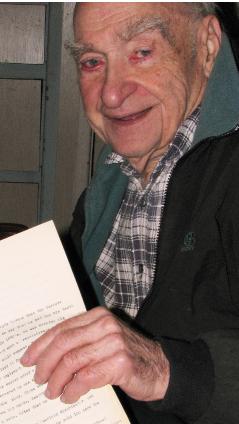 Kenny in 2009 wearing his characteristic plaid flannel shirt and jacket.
This photo of Kenny was taken on 2/15/2009 by Richard Harris, with Kenny's permission, to document his authorization of Richard's photography of his father, Bliss' manuscript -- which Kenny is holding.
---
In 2003, Kenneth Isely produced a one hour video entitled, "The Iselys of Fairmont Hill." It will be made available in its entirety on this site when bandwidth permits. Here is
a low resolution rendition of the first 12 minutes (72 Mbytes).
---
Click here to return to the Home Page of the Isely Information Project.