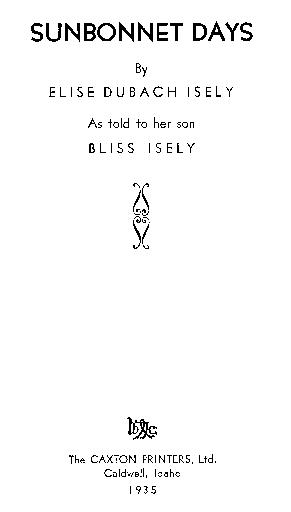 By Elise Dubach Isely as told to her son, Bliss Isely. First printing, Caxton Printers, 1935. Electronic rendering in 1998 by her great-granddaughters, Anne Bingham, Susanne McGuire Cooksey and her great-great-grandson, John Mattox. Copyright 1998.
The 1935 edition was dedicated to "our neighbors of Fairview".
The 1998 edition is dedicated to Christian and Elise, who toiled relentlessly to provide a better life for their descendants. The courage and rectitude they demonstrated in their lives continues to inspire us. We expect that if they could now express an opinion, these hardy pioneers would welcome the 1998 electronic publication of their story.
---
Table of Contents
Original Foreword by Bliss Isely
CHAPTER I - AN ALPINE FAMILY
CHAPTER II - WE HEAR OF KANSAS AND NEBRASKA
CHAPTER III - SAILING WITH EX-PIRATES
CHAPTER IV - STEAMBOATING UP-RIVER
CHAPTER V - SEEKING A HOME
CHAPTER VI - IN OUR LOG CABIN
CHAPTER VII - FARMING ON THE PRAIRIE
CHAPTER VIII - IN THE FRONTIER METROPOLIS
CHAPTER IX - MISSOURI FIGHTS FOR BOTH SIDES
CHAPTER X - ADVENTURES OF A WAR BRIDE
CHAPTER XI - THE ARMY OF THE FRONTIER
CHAPTER XII - A CARPENTER'S WIFE IN ST. JOSEPH
CHAPTER XIII - ON THE PRAIRIES AGAIN
CHAPTER XIV - WITCHING FOR WATER
CHAPTER XV - CULTURE COMES TO THE GRASSLANDS
CHAPTER XVI - A GRASSHOPPER CONQUEST
CHAPTER XVII - PIONEERING IN PROHIBITION
CHAPTER XVIII - THE FRONTIER COMMUNITY CHEST
CHAPTER XIX - APPROACHING THE LAST DIVIDE
---
This document is maintained by John Mattox.

Click here to return to the Home Page of the Isely Information Project.
---